Ostafyevo
Ostafyevo Airport is the international business aviation airport in Moscow.
The airport has been operated by the subsidiaries of public joint-stock company Gazprom — Gazpromavia Aviation Company Ltd. since the year 1997. The airport is opened for international flights since the year 2003 and it is considered to be the airport of location for Gazpromavia Aviation Company Ltd.
The airport is located in district of Moscow, near the settlement of Ryazanovskoye.
Ostafyevo is the most convenient airport of the Moscow air hub for business aviation.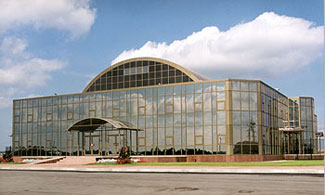 According to the classification of civil aviation aerodromes in Russia, the airport is assigned a class "B". According to the International Civil Aviation Organization (ICAO) standard, the aerodrome complies with the "4D" code designation.
International Business Airport Ostafyevo fully meets modern public standards for the organization of flights and passenger services for international and domestic flights.
The airport operates around-the-clock. The airport building is equipped with the most up-to-date equipment for pre-flight and post-flight procedure performance for domestic and international flights.
The passenger terminal has a capacity of up to 70 passengers per hour (up to 40 passengers on international airlines).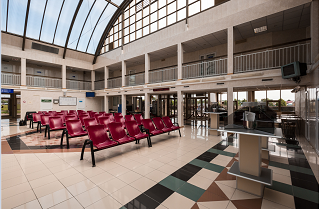 There are some comfortable business lounges for passengers, separate sound-proof meeting rooms in the airport building. The duty-free shop of the well-known international brand "Heinemann Brothers" is also at passenger's disposal.
Aircraft maintenance of third-party airlines and individuals at the airport is carried out through the handling company AVIAPARTNER LLC, which provides a full range of services for the organization and assistance of flights.
Aviation fuel supply at the Ostafyevo aerodrome is provided by JSC Gazpromneft-Aero of Chkalovsky branch.
Thanks to the work of specialists of Centers of Technical Maintenance and Repairs (certified and equipped enterprises for the repair and maintenance of aircraft), customers can use the services of on-time aircraft maintenance.

A modern heated hangar complex allows to place aircraft of the Falcon-7X type and some of smaller types. The apron of Ostafyevo Airport has twelve parking places for various types of aircraft (part of the parking is for groups). Aircraft of Boing 737–700, RRJ-90LR type can be accommodated in the parking lot.